Are you the type of person who likes to rock out in your bedroom to your favourite song? Or, would you rather tap your foot to a good groove?. There's something about moving to music that just feels good.
Victor Quijada, Montreal choreographer and artistic director of RUBBERBANDance group, knows what we're talking about. In fact, Victor's regarded as a pioneer in the world of dance—not only has he created beautiful and inspiring dance pieces, he's created an entirely original movement vocabulary as well! We caught up with Victor to hear more about his original style of movement and his thoughts on bringing his newest dance piece Gravity of Center, to The Cultch.
SC: Your choreography is recognized for being a fusion of hip hop, contemporary and classical styles. In your own words, how do you describe your movement vocabulary?
VQ: Actually, that description is probably the most basic, most rudimentary way to describe the movement vocabulary I use with RBDG. Why it doesn't really work as a good description, is because it asks you to imagine these three styles—hip hop, contemporary, classical—and it forces you to think of the stereotypes that help these genres keep their labels.  Then, it demands that you imagine a fusion of these stereotypical aspects in some kind of a choreographic context.
To be more accurate, I would say that as a choreographer, my voice and vision have been shaped by my history. At one end of the spectrum, this starts with growing up in the freestyle hip hop dance ciphers of Los Angeles, and on the other end it includes a professional career of working with postmodern, contemporary, and neo-classical choreographers in the ranks of high caliber dance companies.
I think this paragraph from my bio says it well:
A wide range of early performance experiences, from the hip hop clubs of his native Los Angeles to a performance career with internationally-acclaimed postmodern and ballet dance companies such as THARP!, Ballet Tech and Les Grands Ballets Canadiens de Montréal, led Victor Quijada to Montreal, a city he now calls home. By age 26, Victor had gained a rare perspective on a large spectrum of dance, possessing knowledge and experience that spanned from the street corner to the concert hall.
But even before you imagine motion or gestures or choreography, the RBDG movement vocabulary begins with the manner in which the dancer acknowledges the space and their own physical reaction to inhabiting it. RBDG movement vocabulary is actuated by the manner of muscularity the dancer adopts at the contact points with the environment. Furthermore, the RBDG movement vocabulary gains its aesthetic through the manner in which the dancer perceives his or her experience.
SC: How did you come to develop this movement style and quality?
VC: It was thanks to the different experiences I had, the different spheres I was exposed to, and to the fact that I was determined to become the best I could be in the different milieus that I found myself in. The "developing the style" part came through many years of practice, but the seeds were planted when I was still very young.
I remember that from a very young age, I already proclaimed, "I am a hip-hop artist," except that I really didn't know what "art" was.
But as a student at the L.A. Arts High School, I remember learning about "art" and coming upon the notion that through "art" it was possible to change the world. As a teenager, hip hop was my life, and art would change my life. I started to expand my ideas about my hip-hop. The knowledge and formal dance training I was receiving at that arts high school would mutate my relationship with hip hop forever.
And of course the professional experience that I would acquire over the next decade would further transform me. It's not just my physical capabilities that would grow, but my mind was also growing. I was watching, learning, changing.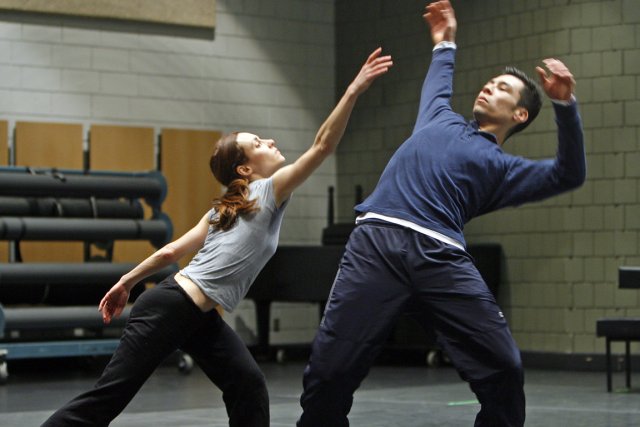 Once the style had developed in my body, the real challenge came in the transmission of the movement to new dancers—how to get them to understand and recreate the specific qualities I was asking for. That's why identifying the style and developing a technique was important and necessary. And that took time. Lots of time. Lots of sweat. Lots of writing, testing, experimenting, practicing, and teaching. Lots of trial and error.
But finally, the method is all there, compact and airtight. And now we can pass the knowledge on very well, very clearly. No guesswork. Simply. Directly.
Gravity of Center runs at The Cultch February 19 – 23, 2013. Tickets start at $17 and can be purchased at tickets.thecultch.com, by phone at 604.251.1363, or in person at The Cultch Box Office, 1895 Venables St.